CNC Forming MACHINE: DURMA AD-R 40220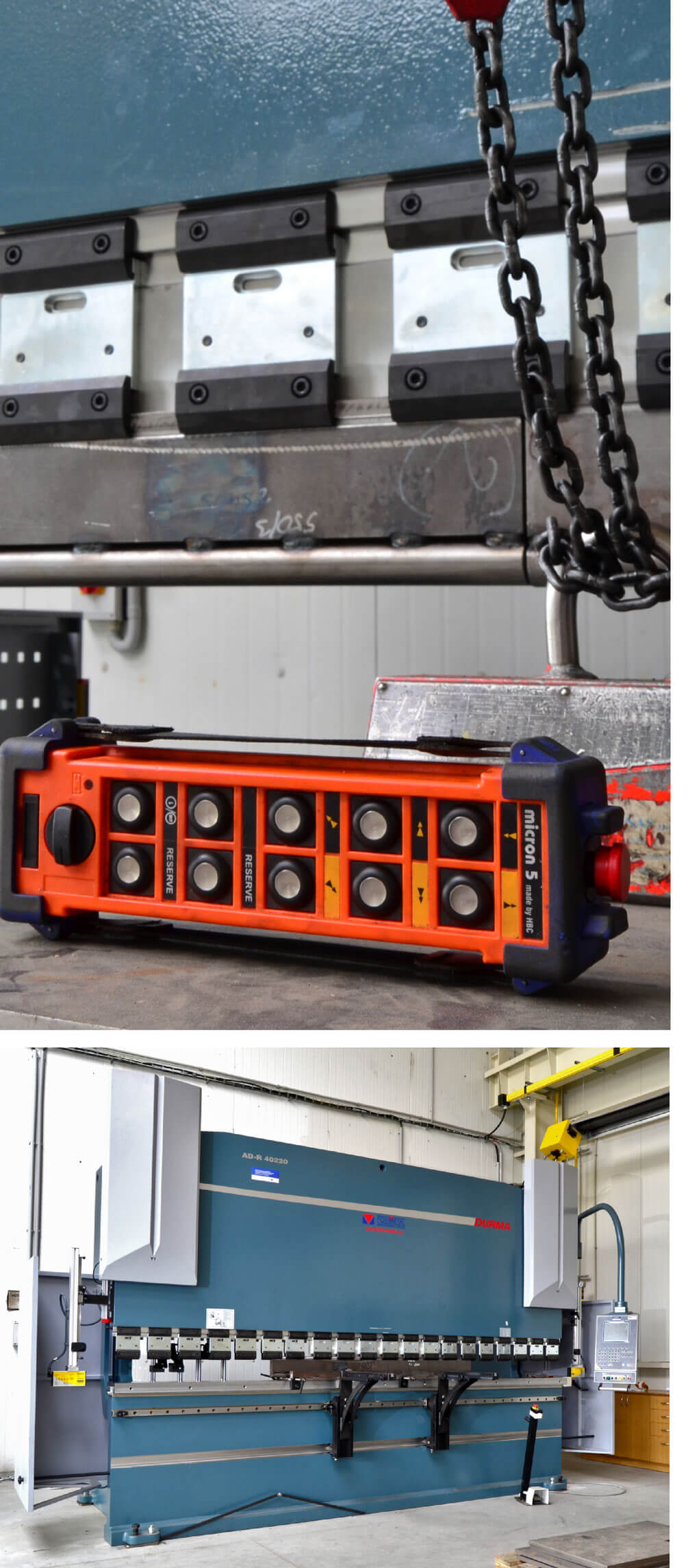 Machine description
The AD-R press brake has 4 CNC controlled axes:
Y1, Y2 – positioning the ramp,
X – positioning the rear stop,
R – height adjustment for the rear stop in inches).
After entering the basic parameters of the product (material type and thickness, dimensions and the required angles), the system automatically suggests the sequence of bends, positions all the control axes and the rear stop bounce, and sets the needed pressing force. The graphic product library enables you to save and retrieve programmed products at any time. The graphic library of top and bottom tools speeds up work with the press when using various tools.
Control system description
The CNC Advantage 2D control system communicates in Czech. The essence of the system is 3-axis control – Y1-Y2 (ram synchronisation) and X (rear stop travel).
Rear stop ball screws.
Fiessler AKAS optoelectronic barrier for the working area.
Moving console with control panel.
Euro type (Amada/Promecam) tool clamping system.
Rolleri cut and hardened tools along the full working length. The lower die has multiple grooves.
Two sliding front supports with a T-groove and front stop.
Portable control stand.
The machine is equipped with an alphanumeric control system providing a 2D view of the programmed product.
Tentative RFQ
DESCRIPTION OF THE EQUIPMENT
PARAMETERS
VALUES
Pressing force
220 t
Working length
4,050 mm
Pass between the sideboards
3,600 mm
Approaching speed
120 mm/sec
Bending speed
10 mm/sec
Lift
265 mm
Opening in the sideboards
410 mm
Prices and all detailed information will be available after receipt of the technical print documentation.
We offer an individual and professional approach based on many years of experience
We will provide one-off or series production according to your requirements
We have excellent technical knowledge and we can also prepare technical documentation
We provide better prices for long-term cooperation