STATIONARY CRUSHER LINE STDL 120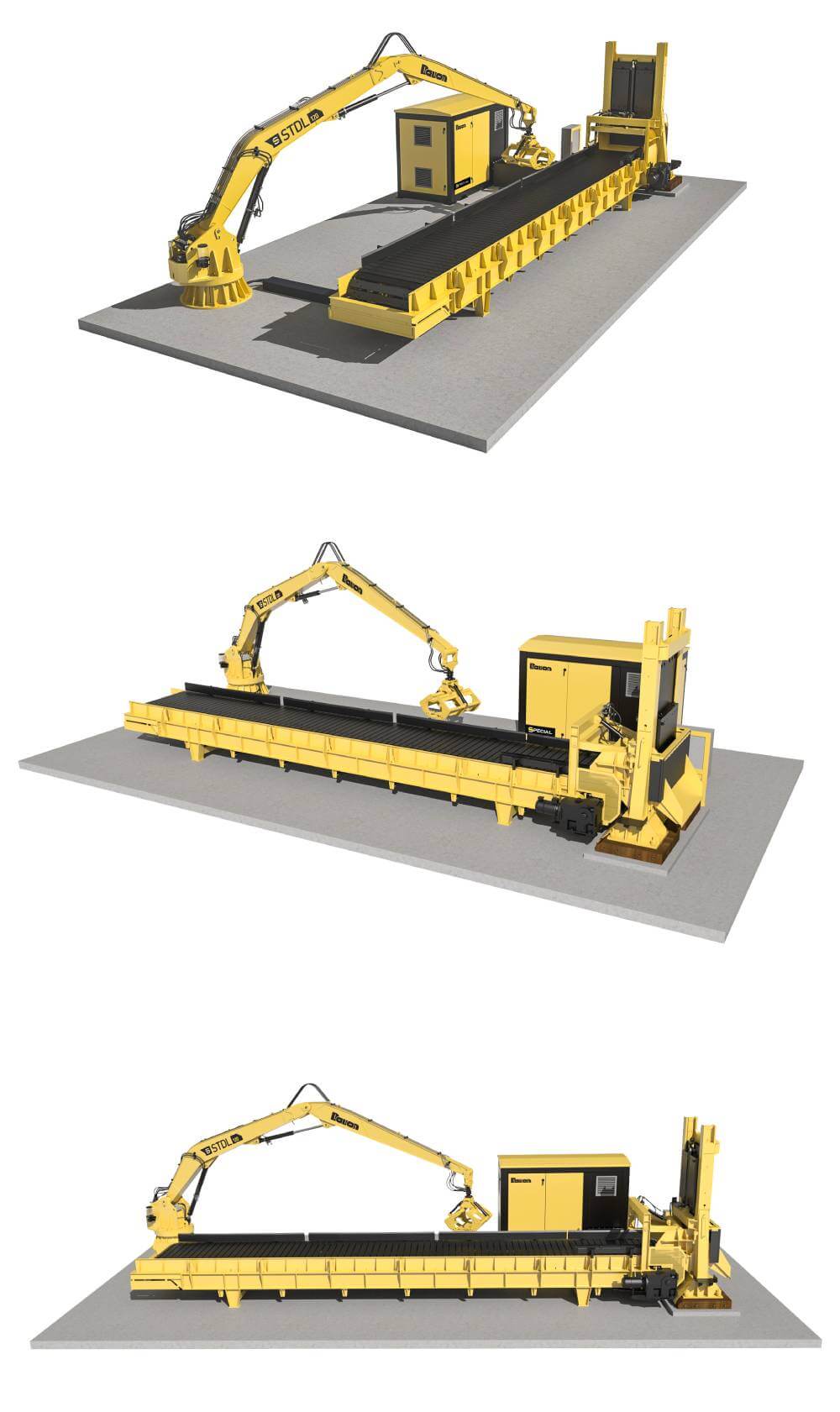 DESCRIPTION
This stationary crusher line is designed for crushing concrete panels. The line is composed of four basic modules:
tray feeder DP-1200/1400
slab crusher DD-65/1400
hydraulic unit HA90R-LS
handling unit RK4095-G
Concrete panels are loaded on the feeder conveyor using the grab on the boom arm of the handling unit and the conveyor continuously feeds the panels into the crusher. The crusher is made of a frame in which a main working surface weighing up to 6210 kg is moved in a vertical direction, driven by a hydraulic system upward, at which it point it is released at the upper apex and its inherent weight drives it downward against a stationary anvil, breaking and crushing the concrete slabs on contact, until the cycle repeats. The crushed material is removed for further processing, which leads to the separation of the crushed concrete and the steel rebar.
The entire line is powered by a dedicated hydraulic system.
Parametres of the equipment:
Handling unit RK4095-G
Max. reach
9,5 m
Capacit
2 t
Tray feeder DP-1200/1400
Conveyor length
12 000 mm
Conveyor width
1 400 mm
Conveyor speed
0÷6 m/min
Max. conveyor load
8 t
Carrying capacity
max. 80 t/hod
Slab Crusher DD-6.5/1400
Slab weight
Basic weight: 4 100 kg
Add-on weight 1: 1 050 kg
Add-on weight 2: 2 x 530 kg
Total weight with add-on weight 1: 5 150 kg
Total weight with add-on weight 2: 5 160 kg
Maximum slab weight: 6 210 kg
Slab width
1400 mm – max. width
1240 mm – cutting edge width
Working stroke
0 ÷1000 mm
Hydraulic Unit HA90R-LS
Configuration
Hydraulic unit with locking enclosure and integrated catch basin
Output
90kW, 400V/50Hz, IE3, IP55
Max. flow
300 l/min
Max. pressure
320 bar
Hydraulic fluid reservoir capacity:
900 l