SHS 63 Raking machine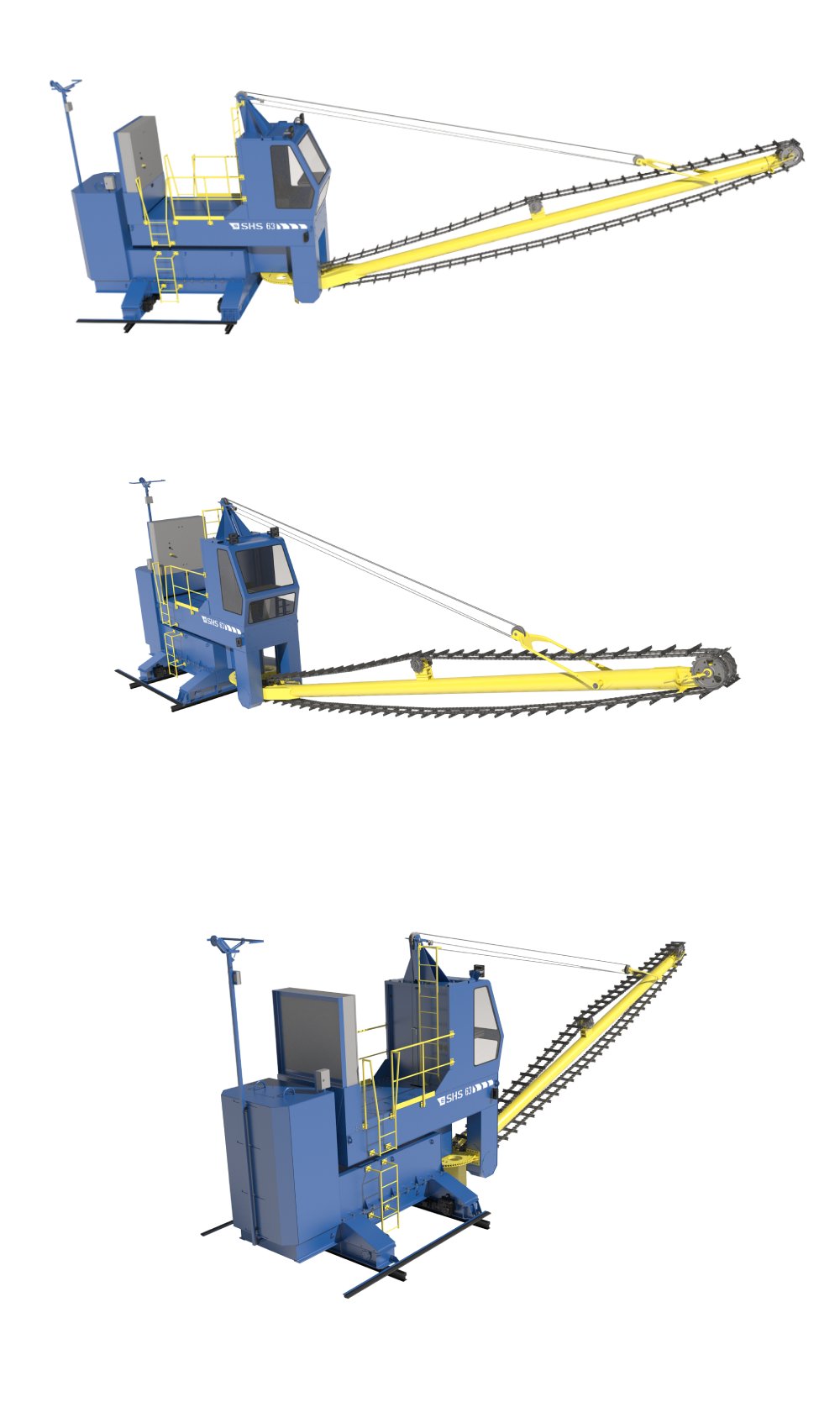 The special SHS 63 raking machine is designed for handling glass raw materials in glass works. After some modifications, it may be used for handling similar materials.
Description
The raking machine consists of a bogie undercarriage for use on rails, a lower frame, a counterweight, a rotating upper frame with the operator's cabin, and the rake arm, which carries the moving raking chain with rakes. The rake arm is suspended from one end by wire cables from the upper frame of the machine and routed over a pulley at the other end. The angle of inclination of the rake arm is be adjusted by winding the wire cables on the winch. Electric motors are used to move the machine and its individual parts. Electric power is drawn from an overhead contact line. Sensors monitor the positions of the machine and its parts.
Function
The machine moves longitudinally on the rails in the storage hall containing the stored material. The raking chain with rakes pushes the glass raw material from the pile onto a grate under which a belt conveyor is positioned parallel to the rails along the entire length of the storage hall. The belt conveyor transports the raw material for further processing.
Technical parameters:
Machine weight
25 t
Machine width
3,830 mm
Height (w/o the rake arm)
5,750 mm
Length (w/o the rake arm)
6,500 mm
Length of the rake arm (between the axis of rotation and the axis of the driven wheel)
12,700 mm
Total length
18,375 mm
Rake arm range of rotation
180°
Rake arm angle of inclination
0° to 60°
Conveying capacity
approx. 63 tonnes per hour
Speed of the raking chain
0.74 m/s
Travel speed
5.17 m/min