MPD MOTORISED POLYP GRAB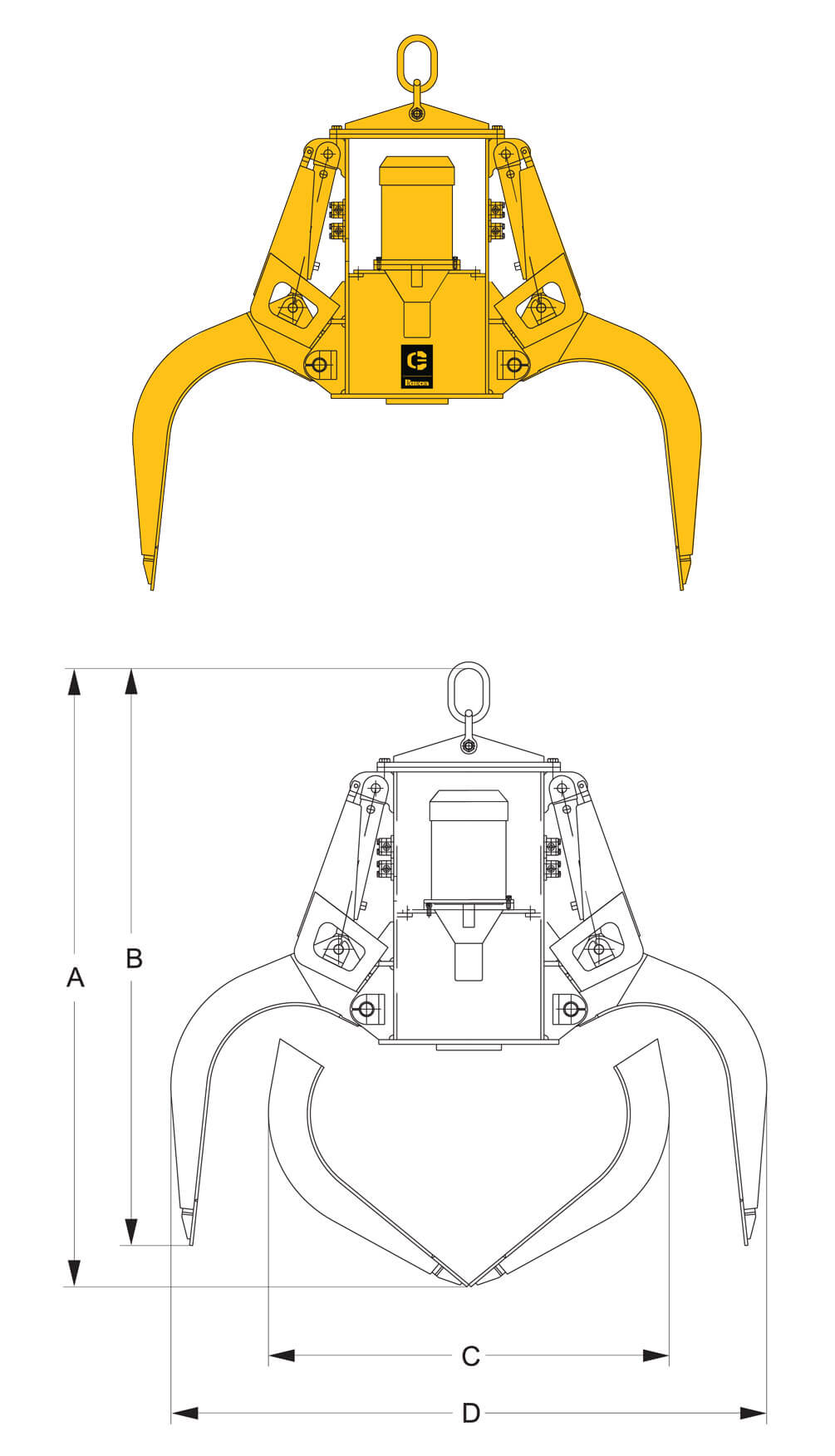 MODEL DESCRIPTION
The MPD line of motorised hydraulic polyp grabs is a universal implement for materials.
The jaw design ensures the gripping of any shape (from bulk materials to large pieces). The jaws are configured in open, half-closed or closed designs.
It is specifically intended for use on gantry crane slings or on similar lifting equipment. It is composed of a carrier, a self-contained suspended hydraulic drive unit inside the carrier (easily removed) and the jaws themselves.
STANDARD CONFIGURATION
sling mounted;
3×230/400 V, 50 Hz electric motor;
hydraulic drive unit with the highest quality hydraulic components;
electromagnetic switchboards in 24 V, 48 V or 220 V control voltage configurations
IP 54 rated enclosure;
covers over hydraulic cylinder rods.
CUSTOM OPTIONS
hydraulic cylinder locks, special rotating mount.
JAW SHAPE
open (indicated by an additional "1" code);
half-closed (indicated by an additional "2" code);
closed (indicated by an additional "3" code);
example: MPD 06-800.1.
Grab model
Volume
Load capacity
Weight
Power rating
Time [s]
Pressure
Number of jaws
Dimensions [mm]
[m3]
[t]
[kg]
[kW]
OPENING
CLOSING
[bar]
A
B
C
D
E
MPD 06 – 420
0.42
2.0
920/950/1041
7.5
7
6
160
5
1752
1608
1350
1980
257
MPD 06 – 630
0.63
5.0
1310/1410/1470
15
7
6
180
5
2180
1900
1530
2490
330
MPD 06 – 800
0.80
6.3
2420/2470/2680
22
11
9
180
6
2400
2170
1730
2660
395
MPD 06 – 1000
1.00
6.3
2530/2630/2840
22
11
9
180
6
2590
2250
1860
3010
395
MPD 06 – 1250
1.25
8.0
3520/3620/3800
30
13
11
200
6
2810
2460
1960
3390
400
MPD 06 – 1600
1.60
8.0
3680/3830/4080
30
13
11
200
6
2860
2470
2050
3390
400