MCD MOTORISED CLAMSHELL GRAB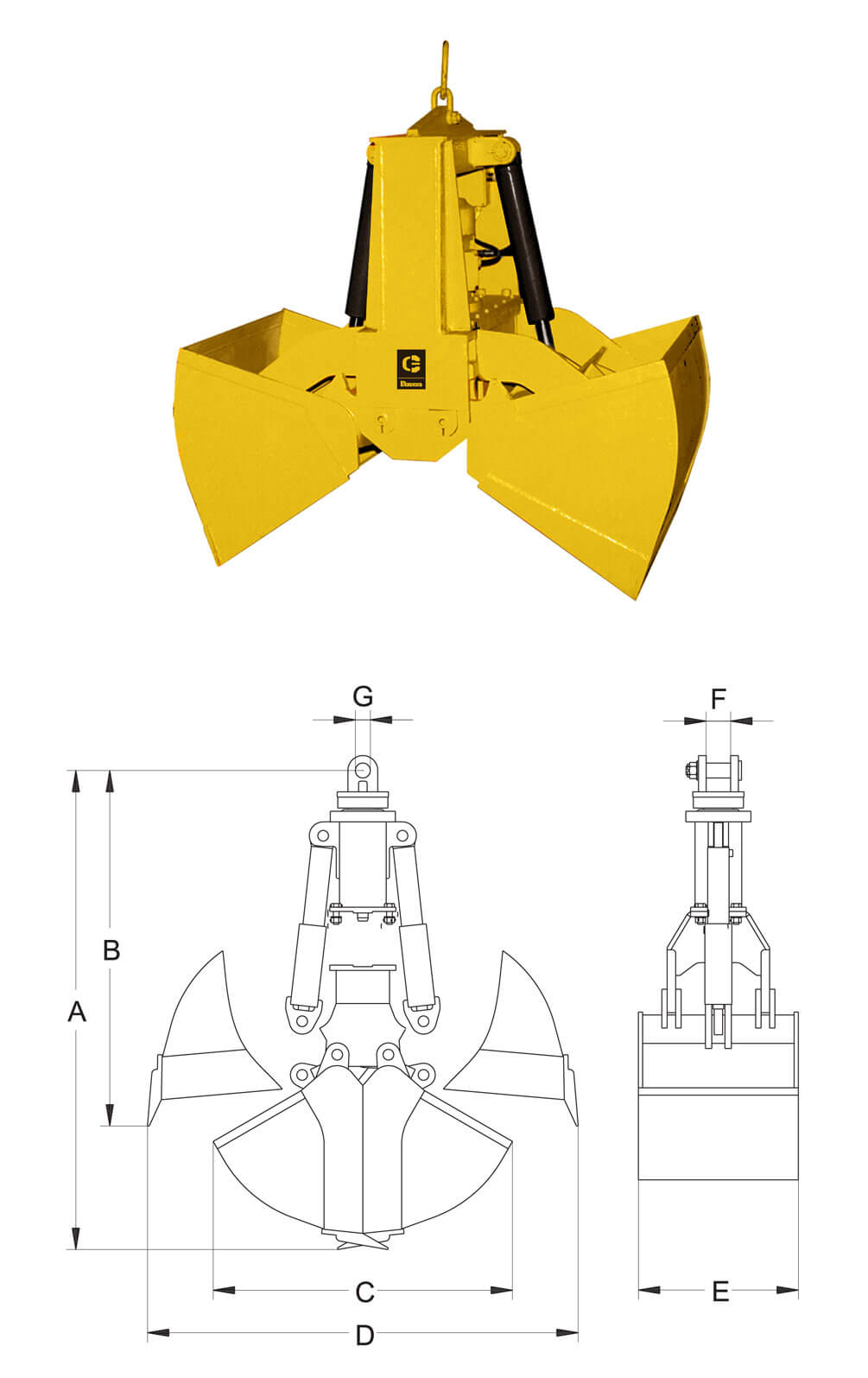 MODEL DESCRIPTION
The MCD line of motorised hydraulic clamshell grabs is a universal implement for bulk materials. It is specifically intended for use on gantry crane slings or on similar lifting equipment.
It is composed of a carrier, a self-contained suspended hydraulic drive unit inside the carrier (easily removed) and the jaws themselves.
The design of the clamshell grab permits the use of several jaw sizes or a log grab on the same carrier.
STANDARD CONFIGURATION
sling mounted;
3×230/400 V, 50 Hz electric motor;
hydraulic drive unit with the highest quality hydraulic components;
electromagnetic switchboards in 24 V, 48 V or 220 V control voltage configurations;
IP 54 rated enclosure;
covers over hydraulic cylinder rods.
CUSTOM OPTIONS
hydraulic cylinder locks, special rotating mount.
Grab model
Volume
Load capacity
Weight
Power rating
Pressure
Time [s]
Dimensions [mm]
[m3]
[t]
[kg]
[kW]
[bar]
OPENING
CLOSING
A
B
C
D
E
MCD 10 – 600
0.18
2
400
3
160
3
5.0
1,450
1,050
1,000
1,190
600
MCD 10 – 700
0.3
2
550
3
160
4
6.5
1,550
1,180
1,240
1,450
700
MCD 10 – 800
0.4
3
558
4
160
4
6.5
1,863
1,332
1,444
1,819
800
MCD 11 – 900
0.5
3
1 158
7.5
180
6.2
10.2
1,863
1,332
1,444
1,819
900
MCD 11 – 1000
0.6
3
1 201
7.5
180
6.2
10.2
1,863
1,332
1,444
1,819
1,000
MCD 11 – 1050
0.8
5
1 277
11
200
6.7
11.0
1,905
1,375
1,580
1,970
1,050
MCD 11 – 1100
1
5
1 460
11
200
7.8
12.8
2,054
1,523
1,444
1,819
1,100
MCD 11 – 1250
1.2
7
2 527
15
200
7.8
12.8
2,438
1,727
1,832
2,358
1,250
MCD 11 – 1600
1.4
8.5
4 407
18.5
200
7.8
12.8
2,555
1,844
1,837
2,358
1,600
MCD 11 – 1800
1.6
10
4 874
30
200
7.8
12.8
3,193
2,345
2,198
2,817
1,800
MCD 10 – max. density 1.8 t/m3, MCD 11 – max. density 2.6 t/m3