HCD 12 HYDRAULIC CLAMSHELL GRAB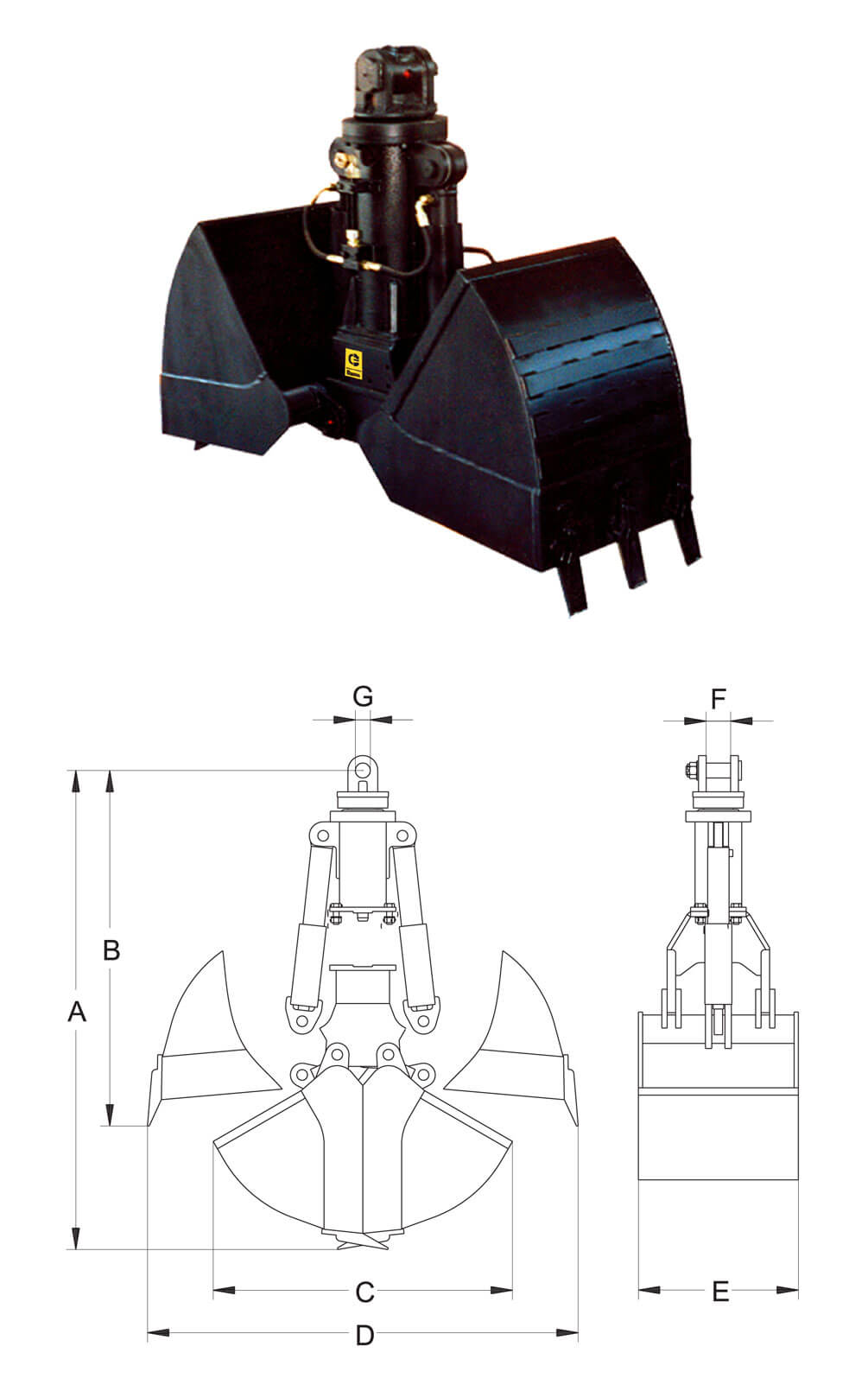 MODEL DESCRIPTION
The hydraulic clamshell grab with rectangular jaws has an integrated carrier. The basic model grab is delivered with a reliable hydraulic rotator, which is integrated into the upper part of the carrier.
The load rating of the excavator in all working directions using this implement is key in selecting the right grab and carrier assembly.
STANDARD CONFIGURATION
with 360º hydraulic rotation (max. 200 bar);
HARDOX 400 blades;
replaceable threaded teeth from the highest quality materials;
special storage cases;
all connecting pins are made from a special high-strength alloy with surface hardening;
covers over hydraulic cylinder rods.
CUSTOM OPTIONS
fixed mount (not rotating) (62 kg lighter);
jaw configuration without teeth, or using HARDOX 500 blades;
option to mount on a swinging brake;
mechanical ejector/scraper;
special covers to prevent mechanical damage;
delivery with universal carrier to mount to any machine
| | | |
| --- | --- | --- |
| Recommended carrier rating | 10.0 – 16.0 | [t] |
| Maximum load capacity | 4.0 | [t] |
| Maximum density | 2.6 | [t/m3] |
| Maximum working pressure | 320 | [bar] |
Grab model
Volume
Weight
Number of teeth
Dimensions [mm]
[dm3]
[kg]
A
B
C
D
E
F
G
HCD 12 – 280
100
489
3
1 827
1 550
1 170
1 358
280
90
40
HCD 12 – 350
170
545
3
1 835
1 319
1 389
1 738
350
115
70
HCD 12 – 400
220
564
3
1 835
1 319
1 389
1 738
400
115
70
HCD 12 – 500
275
576
5
1 835
1 319
1 389
1 738
500
115
70
HCD 12 – 600
330
628
5
1 835
1 319
1 389
1 738
600
115
70
HCD 12 – 700
370
646
7
1 835
1 319
1 389
1 738
700
115
70
HCD 12 – 800
440
667
7
1 835
1 319
1 389
1 738
800
115
70
HCD 12 – 900
500
696
9
1 835
1 319
1 389
1 738
900
115
70
HCD 12 – 1100U*
800
681
0
1 835
1 319
1 389
1 738
1 100
115
70
Weights in the table are inclusive of the hydraulic rotator and connecting pin.
*Max. density 1.6 t/m3